Westside Community Food Market
Locally Sourced Goods Direct from Small-Scale Vendors to Consumers
Due to COVID-19, Kitsilano Neighbourhood House and SPEC decided not to host the 2020 and 2021 editions of the market but we are looking forward to coming back for a great season in 2022 
Every summer on Thursday evenings, SPEC and Kitsilano Neighbourhood House co-host the Westside Community Food Market, from 3 pm to 7 pm, at the corner of West 7th Ave and Vine.
The Market gives small-scale and new local vendors an opportunity to sell their produce directly to customers, while also helping low-income and vulnerable populations access local foods through a coupon program. Vendors include small-scale urban farmers, bakers and local artisans.
Impacting Small-Scale Economies
Too often, small and new businesses struggle to access competitive farmers markets during an important time when they need to reach customers. And produce from major supermarket brands can be unaffordable to individuals who need access to healthy food. 
Shopping at the Westside Community Food Market not only provides shoppers with access to quality food and products, but it also supports our neighbourhood economy and promotes a more resilient community.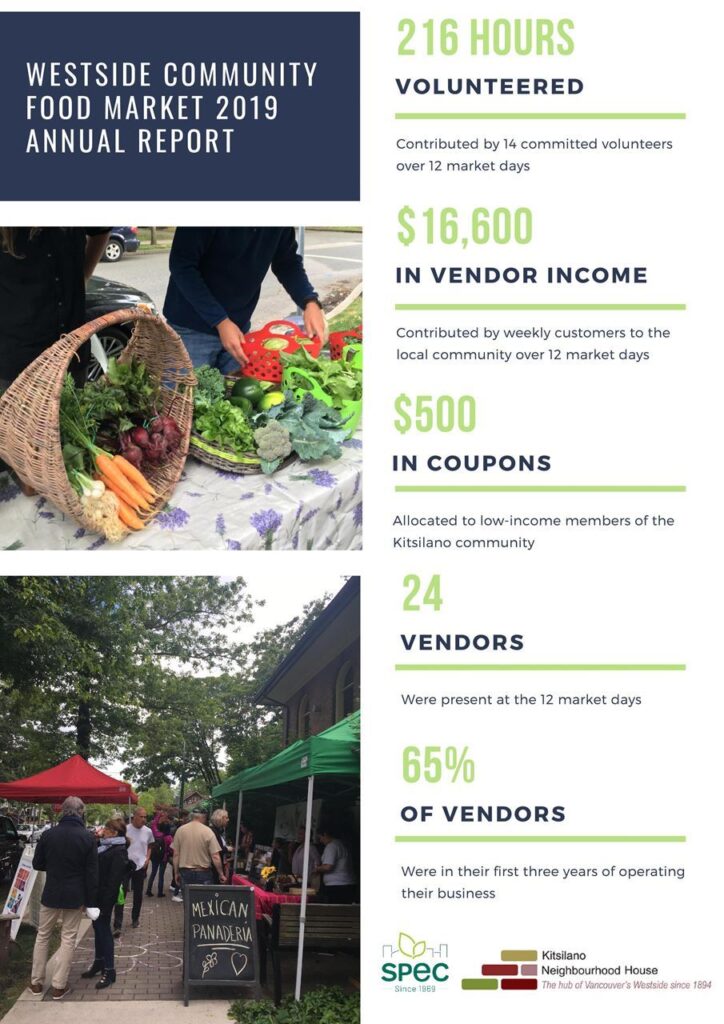 Volunteers are important in helping the market run smoothly. We have a number of tasks available for volunteers of all skill levels. (Applications are closed at this time)